Dr. Kinga Rogowska, DDS, PA
Family & Cosmetic Dentistry in Hollywood, FL.
At Kinga E. Rogowska Family & Cosmetic Dentistry, we strive to offer you the personalized dental services you need and deserve. We follow a detailed approach toward improving your oral health and enhancing your cosmetic dental needs. Through our wide range of Family & Cosmetic Dental procedures, we can create the perfect blend of a healthy and beautiful smile for you, something that you have always wanted. Our dental office in Hollywood, FL, is equipped with modern facilities and has a clean, relaxing, and friendly environment. We have state-of-the-art facilities to give you comfortable and convenient treatments, which are always our main priority.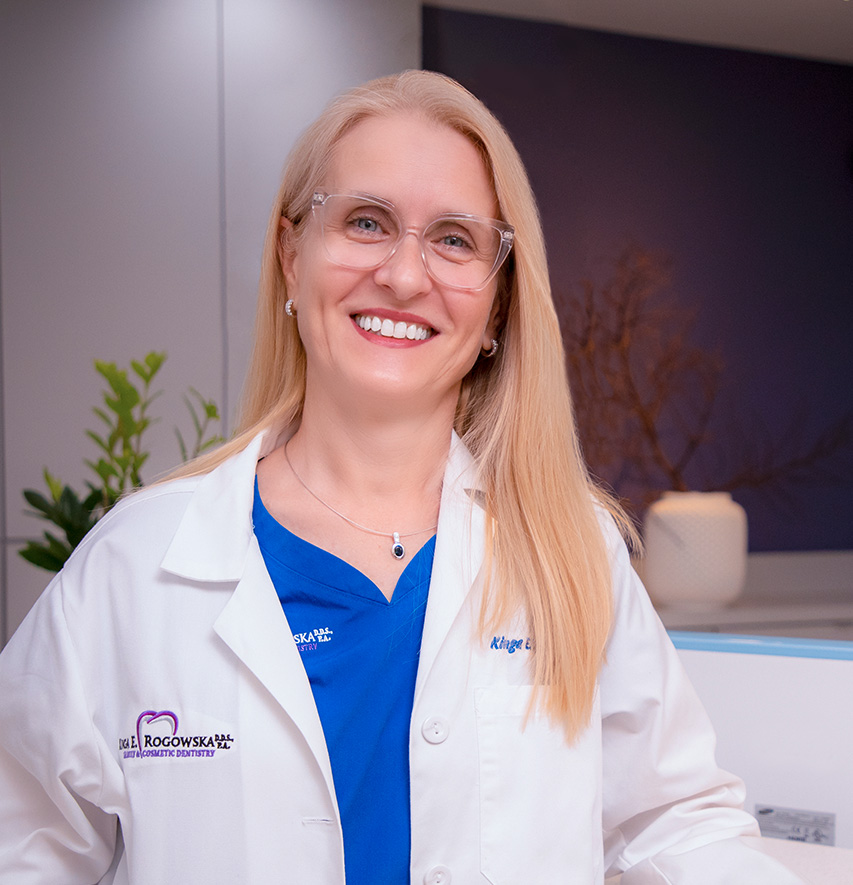 Our dental practice in Florida's Hollywood neighborhood is open for elaborate dentistry procedures and dental emergency cases. If you have a sudden dental issue or have been suffering from oral problems for a long time, reach out to us by calling at (954) 961-4300. Our friendly office staff will help you schedule an appointment with Dr. Rogowska.
What Sets Us Apart?
Enjoy Your Time at the Dentist
At Kinga E Rogowska Family and Cosmetic Dentistry, we believe the comfort and convenience of your patients come first.
Our dental office in Hollywood, South Florida, offers a wide range of family and cosmetic dental treatments that will help to improve your oral health and smile aesthetics. We have an experienced dentist, Dr. Rogowska, who will thoroughly check your oral conditions and design a customized treatment plan that suits your needs and preferences. For us, customer servicing is of utmost priority, and hence we design the treatment plan according to your convenience. With us, you can start your journey towards a healthy and beautiful smile.
Emergency Dentistry
Dental emergencies can occur at any time. Getting it treated right away is vital for your oral health in the long term. If you have a knocked-off tooth and delay going to the dentist, you can end up losing your natural tooth. It is essential to call your emergency dentist in Hollywood, FL, and book your appointment as soon as possible. At Kinga E. Rogowska, Family and Cosmetic Dentistry, we offer effective emergencies dental appointments for your convenience.
Why should you visit Dr. Rogowska when having a dental emergency?
Yoy get quick and effective treatment by an experienced dentist.
Round-the-clock dental services for emergency patients.
Same-day treatment for patients with tooth pain or discomfort.
We accept walk-ins and non-insured patients.
Dental Implants
Tooth loss can occur due to several reasons like injury, tooth decay or gum disease, and it can become really difficult to deal with. Dental Implants are a permannent and stable solution for replacing your missing teeth, and hence is trusted by millions of people around the world. So, what is a dental implant? A dental implant can be defined as an artifical replacement for the roots of your natural teeth. The surgery involves implanting a small titanium post in your jawbones. The post, also known as an endosteal implant, helps to create a strong foundation for your teeth replacements. ur dentist, Dr. Rogowska can evaluate you and guide you toward the right treatment.
Smile Design
Recreating a smile is involves a lot of components. It is not as simple as attaching a veneer or placing a dental crown. A smile defines a person's facial aesthetics, and designing it would significantly impact how they look. Smile design treatment at Kinga E Rogowska Family and Cosmetic Dentistry involves restorative and cosmetic dentistry procedures that enhance your smile's beauty and functionality.
At our dental office in Hollywood, FL, a smile design is customized exclusively for you. It offers several benefits like:
As the smiles are customized, no two smile design results would look the same.
It naturally complements your overall facial appearance.
It increases your confidence to smile and speak in public.